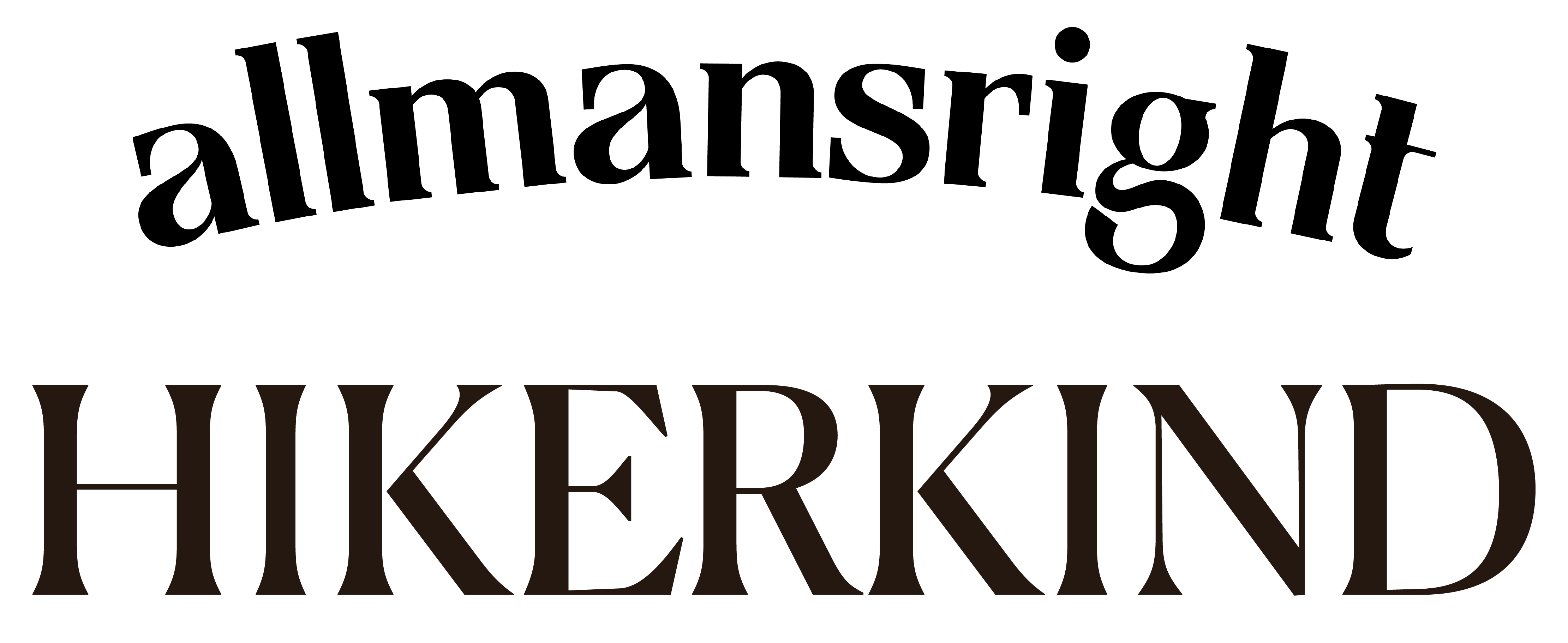 NEW YORK COMPANIES HIKERKIND AND ALLMANSRIGHT JOIN FORCES ON FIRST COLLABORATION, 
LAUNCHING ULTRALIGHT DAY HIKING GEAR
New York, New York - July 15, 2022: Hikerkind, the Brooklyn-based women's hiking gear company and NYC based Hike Club along with Allmansright, the Bronx-based ultralight gear lab, today announce the release of Bottle Bag_01— their first collaboration in ultralight day hiking gear. Bottle Bag_01's release builds on the successes of each company's previous launches-Hikerkind with the June 2022 release of their first full foundational collection and Allmansright's push to blur the lines between outdoor and city gear.
The collaboration is the first of its kind for Hikerkind, upholding their vision to equip women with everything they need to experience the outdoors and feel confident on the trail wherever that may be. "A hike is simply setting out with a destination in mind and a plan to put one foot in front of the other until you arrive." says Hikerkind co-founder Chelsea Rizzo. "For some, that's in your local park and for others, that's in the remote mountains—for both ultralight gear can get you there." This echo's Allmansright's ethos that "nature is for everyone". Their commitment to that fact can be seen in gear that transcends the trail and gives back to their community. 
Limited quantities will be available to purchase on hikerkind.com and by appointment at Hikerkind's retail space in Brooklyn.
The Inspiration 
The Bottle Bag_01 was inspired by "what remains". What remains of us when we've given it all and took only the necessary. What remains of the world we inhabit. We chose an aesthetic that celebrated the coarseness of a journey and the beauty in simplicity that results from weathering. 
Bottle Bag_01
Each Bottle Bag_01 is made in Bronx, New York using recycled materials and sustainable practices wherever possible. Both Hikerkind and Allmansright aim to create the least amount of waste by designing gear intended to last. Each bag is intentionally created and crafted at the Allmansright's founders "foyer factory" sewn by the founders themselves. 
About the Brands
Hikerkind
Founded by hikers and former fashion stylists Allison Levy and Chelsea Rizzo, Hikerkind is challenging the "hiker" archetype by creating clothing gear for women hikers that offer both aesthetics and performance. 
Allison and Chelsea started their careers working in the fashion industry and bonded over their mutual love for the outdoors. Allison has been hiking for as long as she can remember all over the world. Chelsea, who was new to hiking until she thru-hiked the Colorado Trail in 2018, was set to hike the Pacific Crest Trail in 2020 before the pandemic hit. During quarantine, Allison approached Chelsea to take an idea they had been kicking around since they met to the next level, and in October of 2020, they started Hikerkind. 
Hikerkind is a women's hiking gear company and New York City-based hiking club rooted in community. Hikerkind, the brand creates clothing and accessories that offer both aesthetics and performance, dismantling the myth that the two cannot coexist and abolishing the ongoing pressure to fit into what is the predetermined "hiker" mold. Hikerkind Hike Club is a hiking club founded and led by Chelsea and Allison where members recreate responsibly on stolen Munsee Lenape, Wappinger, Mohican, Schaghticoke, and Haudenosaunee lands. Hikerkind Hike Club is donation-based, with all proceeds going to support organizations working towards making the outdoors a more equitable and inclusive space. All of their efforts with Hikerkind and Hikerkind Hike Club are to break down barriers of entry for women in their exploration of the outdoors.
For further information on Hikerkind and Hikerkind Hike Club, please visit www.hikerkind.com
Allmansright
Currently, a team of 2 based out of nearly 100 sq. ft. in The Bronx, New York. Allmansright is at the intersection of enthusiasm for deeply considered design and a love for being outdoors. The name 'allmansright' is inspired by the Swedish law, "allemansratt". It is "The Right to Public Access" also known as, "Freedom to Roam". They believe the outdoors is for everyone, and access to nature is 'allmansright'. They imagine a world in which the outdoors are part of typical life and culture. Where someone from a mega city can take one of many bus routes to and from the woods where they forage and frolic. They hope that someone that connects with nature understands what's at stake, and as a result, will advocate for it. In their idea of humanity, they are deeply connected to the natural world and very aware of the nature they've made our own. They don't just recall their dreams however, they chase them! In their pursuit, they host fundraisers and continually donate 2% of profits to diversify and advocate for the outdoors. They believe it's going to take all kinds of people with all kinds of perspectives to sustain the privilege of existing on earth. 
Livio Melo, the Founder & Maker, is a Dominican hiker, artist, and designer with an industrial design degree from 'Parsons - The New School'. The industrial designer in him used to believe products could save the world, but the hiker in him knows that the connections made with nature ultimately will. His hopes are that we can facilitate these connections via gear. He started making my own gear a couple of years ago for personal use, which today has grown to make it for others. Jennifer Jacobsson-Melo the Co-Founder, is a Swedish native, half Filipino, immigrant in the U.S. with a background in merchandising, sales and retail operations. She grew up in Sweden with Allemansrätten, and the forest as her backyard. After living in NYC for several years, she lost touch and access to the outdoors until Livio introduced her to hiking a couple of years ago. It was a reminder of the important benefits nature has on our body and mind, and how important access to the outdoors is! Since Livio founded 'allmansright' she's joined the cause to help support our mission of getting more people outdoors, protecting it, and making it more inclusive.
For more information on Allmansright, please visit www.allmansright.com